Accuweather in Lake Arrowhead                                                                  June 4, 2018        
"Early Bird" Daily listings      +     LakeArrowheadLiving.com      +   See Hot Links below 
Million plus is a small segment of Arrowhead Woods, but largest in dollar value. After several 'not hot' years, the lakefronts and estates are bounding back – shown in this 6 month report.

Listings of luxury homes in Arrowhead Woods, lakefront and estates, focus on the 62%, $1-$2 million, 43 of 69, the hot spot.
Selling 82%, 14 of 17 sold, are between $1 and $2 million.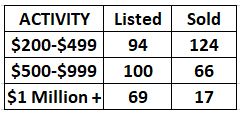 Past two week reports; a total snapshot of the Arrowhead market.
TIPS FOR FRESH IDEAS:
eMAIL Real Estate Drip Campaigns 
Know the value of your home to make the decisions that affect your future.
Call Bob;  Your price in 24 hours 909.496.8200
  Be aware of what's happening daily in our mountain real estate market. Click any image below.
Coldwell Banker Sky Ridge Realty, Lake Arrowhead 92352 Since 1982